Red Wine & Goat Cheese Risotto
Red Wine + Goat Cheese Risotto with Caramelized Mushrooms
serves 4
2 tablespoons olive oil
2 tablespoons unsalted butter
3 garlic cloves, minced or pressed
1 1/4 cups arborio rice
1 cup of your favorite red wine
3-4 cups low-sodium chicken stock
6 ounces goat cheese
3 cups sliced mushrooms
1/4 teaspoon salt
1/4 teaspoon pepper
fresh basil for topping
In a large skillet, heat 1 tablespoons of butter and olive oil over low heat, then add mushrooms. Let cook for 10-15 minutes, stirring occasionally until mushrooms are juicy and caramelized.
While mushrooms are cooking, in a large saucepan heat 1 tablespoon each of butter and olive oil over medium heat. Once hot, add garlic and cook for 30 seconds. Add rice, tossing to coat in the butter and oil, then toast while stirring occasionally for 3-4 minutes. Add in wine, stirring every few minutes until absorbed. Once absorbed, add in 1 cup stock, stirring until absorbed like you did with the wine. Repeat 2-3 more times, until all stock has been added and absorbed. This should take about 15 minutes – I do not stir constantly, but actually just keep an eye on it and stir every few minutes. Taste rice and determine if the they are cooked to your liking (if not, add in 1 more cup of stock and stir).
Reduce the heat to low and add in salt, pepper, 5 ounces of goat cheese and mushrooms, then stir. Serve with remaining goat cheese crumbled on top and a sprinkling of fresh basil.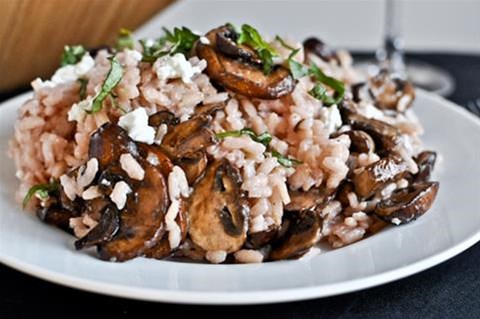 ---