Red Wine Chocolate Pudding Pie
Ingredients
Graham Cracker Crust
- 1 1/4 cups cracker crumbs
- 1/4 cup brown sugar packed
- 5 tablespoons melted butter
Red Wine Chocolate Pudding Pie
- 1 cup heavy cream
- 3/4 cup red wine
- 1 tablespoon instant coffee
- 1 tablespoon unsweetened cocoa powder
- 1/4 cup granulated sugar
- 1/4 teaspoon salt
- 2 (4 oz) baking bars bittersweet chocolate finely chopped, 66% cocoa
- 1/2 stick (1/4 cup) unsalted butter cubed
Optional Garnishes
- chocolate syrup
- whipped cream
- maraschino cherries
- extra bittersweet chocolate
Instructions
Graham Cracker Crust
1. Preheat oven to 375 degrees F.
2. In a medium sized bowl, stir together graham cracker crumbs, sugar, and melted butter until well combined.
3. Firmly press the mixture into the bottom and sides of a 9 or 10 inch pie pan.
4. Bake for 6-8 minutes.
5. Remove from the oven and let cool before filling with the chocolate pudding mixture.
Red Wine Chocolate Pudding Pie
1. Place bittersweet chocolate and butter into a large bowl. Set aside.
2. Heat the heavy cream and Merlot in a small saucepan over medium heat until hot (about when it starts to bubble around the edges). You don't want to mixture to boil.
3. Remove from the heat and stir in the coffee, cocoa, sugar, and salt until smooth.
4. Pour hot mixture over chocolate/butter and whisk until smooth.
5. Pour mixture into cooled pie crust.
6. Cover with plastic (the plastic will stick to the top of the pudding - that's good) and chill until the pie has set, at least 6 hours.
7. Garnish with whipped cream, maraschino cherries, a drizzle of chocolate syrup, and shaved bittersweet chocolate.
8. Serve and enjoy!
Notes
Store leftovers, covered, in the fridge.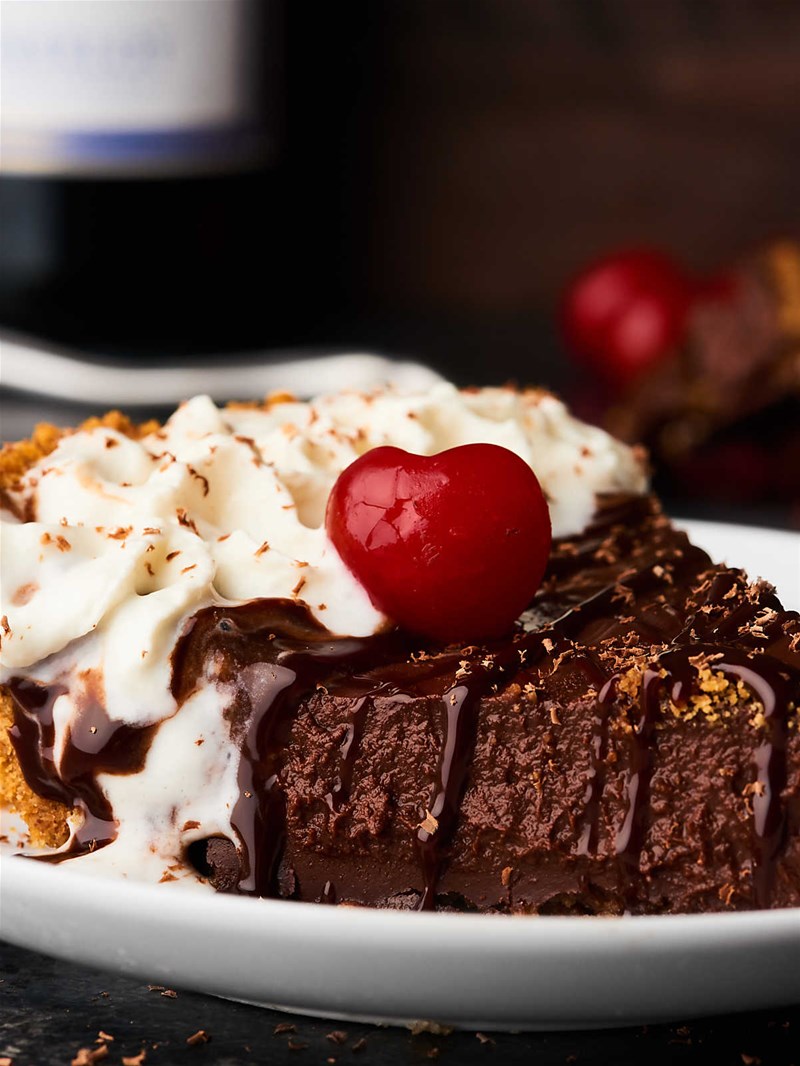 ---