Red Wine Vinaigrette
Left over bits of wine are reduced and used in place of vinegar. The reduced wine adds a sweeter, less acidic quality to the dressing. You can use and combination of leftover wines for this recipe, including red, white and rose. It is especially good when serving a salad with cheese.

Ingredients:

1/2 cup leftover red wine
Fine sea salt
1 cup extra virgin olive oil

Directions:

Step 1
In a medium sauce pan, bring the wine to a boil over high heat. Boil until reduced by half, 3 to 4 minutes. Set aside to cool thoroughly.

Step 2
Combine the reduced wine and salt in a jar. Cover and shake to dissolve the salt. Add the oil and shake to blend.

Taste for seasoning.

The dressing can be stored at room temperature or in the refrigerator for several weeks. Shake again at serving time to create a thick emulsion.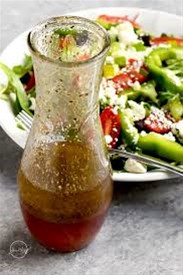 ---