Crafted Beer Kits
Crafted Beer kits come with the proper yeast per varietal. For example a lager will contain the lager yeast while aan ale will contain an ale yeast. Some select flavors will contain hop pellets. All Crafted Beer kits require 1 KG of dextrose which is not included.

Amber Ale
Medium body, less malty with noticable caramel/crystal malt flavor. Medium to high hop rate with corresponding aroma. Light copper to brown color. Fruity and estery with low diacetyl. Moderate carbonation. Slightly darker in color and more caramel flavor than American Pale.

Blonde Lager
Pours pale gold, with a thin white head. Sweet fruity aroma, lush apple sauce with a soft hint of pineapple. Soft, light malt flavor with a hint of apple on the finish. Very light bitterness with clean, dry aftertaste.

Pale Ale
Pours gold ale, with a white head. Pleasant malt aroma with soft fruit undertones. Lovely malt sweetness with a hint of vanilla, well balanced with hop bitterness and clean finish.

Draught
Pours pale straw, with white head. Clean aroma with subtle hints of vanilla. Light malt flavor, with slight honey notes. Ripe yet dry finish.

Pilsner
Pours gold with white head. Delicate malt aroma, very clean crisp mouth feel. Has a very clean, refreshing aftertaste with a lingering bittter finish.

Stout
Pours dark black with tan head. Berry fruit aroma, with a touch of coffee and chocolate. Initial sweet malt flavor. Smooth with full roasted malt character throughout. Dark fruits and dark chocolate notes.

Brown Ale
Pours dark brown, with tan head. Fruit aroma with subtle hints of chocolate. Great mouth feel, rich and fruity with good malt sweetness. Chocolate and fruit aftertaste well balanced with the hop bitterness.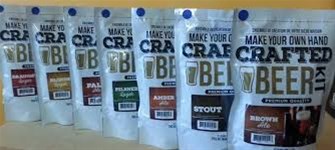 ---