Cooking with Wine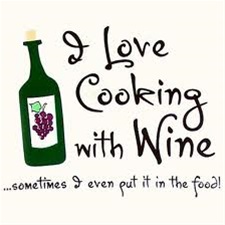 Cooking with wine is a great way to enhance your dishes! Learn the tricks to cooking with red wine and cooking with white wine.


Here are my favorite ways to use wine in light cooking:
Wine helps cook and add flavor to fish. One way to add flavor and moisture to fish without adding fat is to cook it with wine. You can add wine to the pan while the fish is simmering, poach the fish over a saucepan of boiling wine, or drizzle fish with a tablespoon or two of wine and bake it in a foil package.
Wine is a great ingredient in marinades. Wine is basically an acid ingredient (which helps tenderize the outside of the meat) and it has a lot of flavor. The wine-based marinade helps keep meat, poultry, or seafood moist while it cooks, too.
Wine can help cook and simmer foods. Add wine to dishes you're cooking in a skillet on the stove, in a slow cooker, or in the oven. Simmered along with the food, it adds flavor and moisture to whatever dish you're making.
Wine can be used in baking, too! For certain types of cakes, using wine or sherry in place of some of the fat not only lightens up the cake but adds complimentary flavors.
7 Secrets of Cooking With Wine
Ready to start experimenting with wine cookery? Here are seven basics you should know.
1. Play off the subtle flavors in wine.
Here are some of the subtle food-like flavors that can come through in wine -- which you may want to capitalize on by adding some to dishes containing these foods:
White wine: melon, apple, pineapple, pear, citrus, vanilla, caramel, olives, and mushrooms
Red wine: berries, peaches, currants, plums, cherries, oranges, chocolate, and coffee
2. Choosing dry vs. sweet
A very dry wine has very few natural sugars remaining, and is usually higher in alcohol. In contrast, the sweeter wines still contain a larger amount of natural sugar from the grapes. So choose the type of wine depending on the flavor you want in the dish you're making.
3. Tannins and acid
"Acid" is a term used to describe both red and white wines, and it refers to the sharp bite in the wine (much like you would experience with lemon juice or vinegar). Acid can help bring out the natural flavors in a mild food, such as fish (this is why fish is often served with an acidic wedge of lemon). Tannins are generally found in red wines; this word refers to the bitter element in the wine (similar to the bitterness you'll find in a strong cup of tea). The tannins in red wine pair well with strongly flavored dishes and hearty foods, like a nice juicy steak.
4. What type of wine should be used to cook which type of food?
Generally, it's thought that a light-flavored wine goes best with delicately flavored foods. It would follow that a bold-tasting wine might do well in a boldly flavored dish.
Don't be afraid to do your own thing, but generally, light-colored meats like chicken and fish, are paired with light-colored wines (white) while dark-colored meats, like beef, are paired with dark-colored wines (red). What about the "other white meat?" You can serve either red or white with pork. Red dinner wines go well with hearty or highly seasoned foods, such as beef, pork, game, duck, goose, and pasta dishes, while white dinner wines tend to work with dishes containing chicken, turkey, fish, shellfish, ham, and veal.
5. Consider the preparation
It's important to consider not only the type of meat, but the way the meat is prepared when choosing a wine to use in cooking or serve at the table. For example, a dish heavy on the spices usually needs a full-bodied wine to stand up to it. One with a light or creamy sauce calls for a drier, light wine.
6. That last secret to cooking with wine: Have fun!
Feel free to experiment while cooking or baking with wine. Get creative, and try to invent new flavor combinations. And, after you've created something spectacular; don't forget to write down how you did it!
---